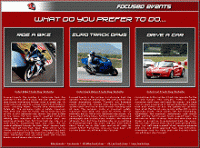 Focused Events
Focused Events all the premier race circuits throughout Europe, from a single day UK motorcycle track event to a 4 day circuit riding holiday in Spain, including flights, insured bike transportation, hotels etc.
The company motto is safety, maximum track time and value for money. All our track days are on FIM or ACU approved race circuits. We have a fleet of hire bikes, full tyre support, qualified instructors offering free instruction at all our track days. We welcome all levels, from first time track day rider on a road bike to experienced track day users.
We run several different formats for track days: Session track days, Open pit lane track days, Rider Clinics run by current BSB stars & ex GP stars, Chequered flag track days(novice based track day training), Ladies only track days. Remember once you have been with Focused Events you will always stay focused!
GB RH20 3E WEST SUSSEX, PULBOROUGH